ZELLCHEMING-Expo 2019
Our low-floor transport vehicle move-e-star was displayed during the ZELLCHEMING-Expo 2019 for the first time! The exhibition for the European pulp, paper and suppler industry as well as fiber based materials took place from 25 – 27 June in Frankfurt am Main.
High-Tech Cooperation
–
Hüffermann Krandienst and HIT Hafen- und Industrietechnik are working together on a new electric crane. The crane can lift up to 10,4 tons and is extremely flexible and compact. This is made possible by the special running gear developed by HIT for the move-e-star.

Hüffermann Krandienst presented the newest generation of this electric crane at the IAA Nutzfahrzeuge – New Mobility World LIVE from 22nd to 29th September 2016. The live demonstration of the electric crane could be followed during the New Mobility World LIVE show between the halls 22 and 26 at the Exhibitions Grounds in Hannover.
Excellent Communication Platform

HIT Hafen- und Industrietechnik GmbH exhibited for the second time at CeMAT, held between 31st May and 3rd June 2016 in Hannover. "With our showroom model we gave an impressive demonstration of our established standard", pointed out the directors of HIT Gerwin Eilers and Dr. Peter Schinzing. "Our solution is the real-world consequence of the digitalization within the Industry 4.0", added Schinzing. Both directors consider the CeMAT to be the perfect communication platform for customers and suppliers. The fair is also seen as the ideal opportunity to be introduced to the international market.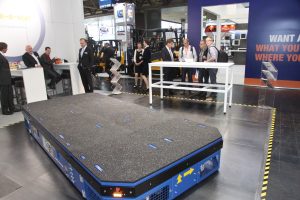 Moreover, the European Deputy Gesine Meissner and Daniela Behrens, State Secretary for the Ministry of Economics, Labour and Transport of Lower Saxony, have both visited the stand of HIT and wanted to know about the move-e-star technology and the possible applications. Gesine Meissner and Daniela Behrens also wanted to find out more about the people behind the company. HIT relies on various educational and training opportunities for its employees.
The export share of the products developed by HIT as well as the research and development activities of new technologies were also discussed during the visit. Gesine Meissner is a member of the European Parliament in the Committee for Transport and Tourism and a contact person of the European Liberals for all transport issues. State Secretary Daniela Behrens is among others Chairman of the Innovation Center Lower Saxony and Chairman of the Supervisory Board at Niedersachsen Ports.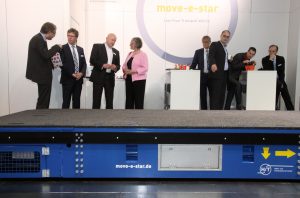 The CeMAT is one of the world's leading fairs for intralogistics and supply chain management. This eventful trade fair takes place by tradition at the Exhibition Grounds in Hannover and brings together over 1.000 exhibitors from all over the world.